My Brother The Devil Review
18:55:00
Hello My Lovely's

With 'Boxing Day' I was also sent the film, 'My Brother the Devil' and after seeing the trailer it automatically reminded me of the hard British grit, the British film industry portrays so well. The film is directed by newcomer Sally El Hosaini, who won 'Best British Newcomer' at last years London Film Festival, which upon seeing this film it is easy to tell why.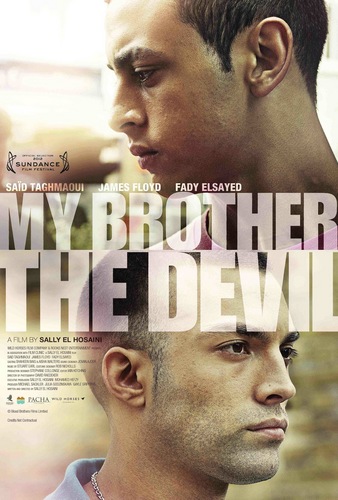 'My Brother the Devil' focuses on a Hackney family, starring Fady Elsayed and James Floyd as two young Egyptian brothers who upon the four walls of their bedrooms live very different lives. Floyd's character Rashid is a man that many members of his gang look up to especially his brother Mo (Elsayed) who aspires to be like him.

However after the death of this best friend Rashid decides to change his life upon building a friendship with Sayyid (Said Taghmaoui), causing Mo to challenge everything he believes in.

Every aspect of this film displays the true unconditional love the two brothers have for each other as they fight for what they believe in, yet it always leads back to their brotherhood. El Hosaini has made a gritty yet beautifully portrayed film that many well credited directors would be proud to have made.

The poetic feel the film gives off mirrors some Hollywood classics such as 'American History X' yet in a more peaceful manner. Everything in their world mirrors something, such as the scene between the death of Rashid's friend and the dog. Both are best friends to someone, however they are easy to leave them behind to protect themselves and others around them. As well this scene shows just how brutal life is as the death's of both mammals is quick, showing how life is so fragile and can be taken in seconds.

Mo's portrayal of a journey from child to man is also a key element on screen. Its ironic how Mo's childhood is portrayed by him hanging around the park on his estate. However that is where many gangs hang out in reality. His movement in to the gang also makes him more childlike as he is so fragile compared to the men he is up against.

Yet the end of the film makes me think differently to Mo because he is the one who is strong enough to take the consequences instead of running like the rest of the men including his brother.

As I was watching the one thing that stood out to me wasn't the violent gangs, but the way in which the issue of terrorism is treated. All of the on screen characters are disgusted by homosexuality in the film, although when the issue of terrorism is brought up, they treat it like a way of life. This is a shocking portrayal towards the issue on screen due to the society we live in today. It feels as though the more accepting society becomes towards homosexuality, the more and more the characters in the film are treating it as a threat to them that is bigger then terrorism. This is utterly ridiculous, yet the scary thing is probably some people believe in this!

Overall I really liked this film. It was so much more gentle than films such as 'Kidulthood" but still able to strongly hold on to the traditional on screen British grit that British cinema is famed for. El Hosaini has built himself a strong directorial role and I will definitely follow him career. The film is out on DVD on the 18th of March, so please check it out and get back to me on your thoughts towards it.

So I am giving this film....

5 Stars
Until Next Time...
Joey xxx